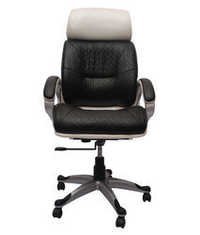 Executive High Back Chair
Product Description
The Executive Chair
The High Back Executive Chair is the new option for the manager or CEO. The executive chair also comes with a Synchronized Tilt which allows you to lean back into the chair and also help with stretching while sitting for long periods of time.
Key Details
Back Height from the Seat Level - 30 INCH

Back Width - 23 INCH

Seat Width - 21 INCH

Seat Depth - 21 INCH

Minimum Seat height from the ground level - 18 INCH

WEIGHT - 20 KG

Key Details
Adjustable Seat Height

Adjustable Back Rest

Adjustable Seat Pan

Soft Seat Padding

Seat Pan Front Edge "waterfall"

Push Back Design Structure.

Padded Lumbar Support – Adjustable

Full Back Support Up To Shoulders

Arm Rest – Padded.

5-prong / Leg Chair Base

Imported Casters That Roll Easily

Seating That Produces No Pressure On Knees

Preferably Anti-static

Make All Adjustments While Seated

Colour Options Available

Virgin Quality Fibre/chrome Stand/base.